Gliding friends, welcome to Fayence!

We are excited to make the facilities and services of our gliding center available to you, and we will do our best to meet all of your expectations.
We will remain available throughout your stay to offer you the safety and quality you demand, producing an outstanding gliding experience.
For yet another year, our gliding center is ranked #1 in France for both distance flown by club gliders, and for pilot training.  And in 2017, four flights of over 1000 kilometers were flown from Fayence.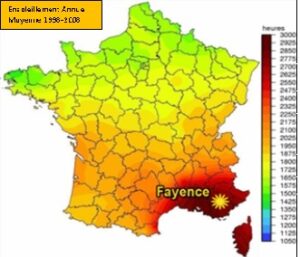 Our gliding center is open every day, and enjoys exceptional weather for soaring, including more hours of sunshine than elsewhere in Europe, producing strong thermals and frequent convergences, and our nearby mountains offer frequent ridge and wave conditions.
Our mountain wave window, which extends up to FL 235, is available for you to achieve your altitude goals, and with minimal airspace restrictions, you may achieve your distance goals from Fayence directly to the Alps.
Our gliding center offers visiting pilots a wide variety of configuration and performance options with both single-place and two-place gliders available.
We offer overnight accommodations at our gliding center, and there are many other accommodations available nearby.
And last but not least, if you're accompanied by your partner or your family, Fayence is perfectly located for a holiday that everyone can enjoy.
Half-way between Provence and the world-famous French Riviera, Fayence is close to the beaches of Saint-Tropez, Cannes, Nice, and Saint-Raphael, the charms of Saint-Paul-de-Vence, Monaco, and Menton, the many hiking trails of the Verdon, Mercantour, and Esterel mountains, and countless 'postcard' hilltop villages.
And in the evening you can experience the soul of southern France with the flavors of its Mediterranean cuisine in a wide variety of restaurants under the plane trees of its centuries-old village squares.
So do not hesitate!  Come and fly at soaring paradise, and be our welcome guests at the Fayence Gliding Center!
We hope to see you very soon!
Contact us at +33 (0)4 94 76 00 68 or at Contact@aapca.net