The AAPCA has developed a CONDOR 2 educational scene for the Western Alps (France, Germany, Switzerland, Italy). This scene belongs to the AAPCA (®, ©) and can only be distributed by the links below. It is mainly dedicated to the simulators of clubs for the start school and the campaign flight on the Alps. But it can be used for personal purposes.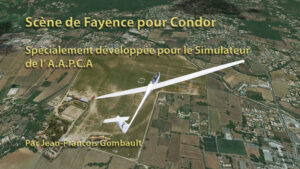 Scenery Files
Here are the files to download and then to unzip in the directory landscape of Condor 2:
The uncompressed scene weighs about 25 GB.
Flight plans
Educational situation to place in the directory of installation Condor > Flightplans
⇒ Caveat: This scene is only a training tool.
The designer warns that no information can be used for the actual flight. Its responsibility cannot be committed for the reliability and accuracy of the information contained.