Pass his glider pilot certificate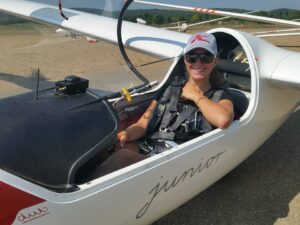 Obtaining the glider pilot patent:
Under the guidance of a referral instructor you will follow the standard teaching method that will allow you to fly alone aboard a glider.

You will be following approximately 20 hours of dual-order flight (statistical average observed).

After completing at least 10 solo flights, one of which lasts 1 hour, completes the theoretical glider exam and a flight exam, you will get the Pilot Glider Patent.
Note:
Parental Authorization for minors (14 years to start, 15 years to release, 16 years for BPP),

Recommended course for 2-3 months.

Perform 3 to 4 day internships for the "Let Go" and first solo flights period.
As an indication for a student ab initio to provide a budget of about 2,000 euros (1,500 euros for under 25s excluding federal scholarships).
The budget:
Includes club membership costs and mandatory federal insurance license, flights, flight log, training manual,

May vary depending on the student's ability and aeronautical background.

Does not take into account scholarships and grants issued for: BIA, release, BPP,

Does not include a medical visit to a licensed doctor.
Scholarships likely to be obtained for those under 25 years: