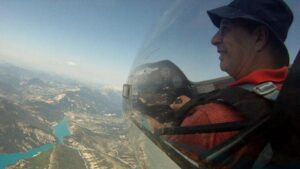 Discovery Formula-April to September: information to the Club secretariat: + 33 (0) 494 760 068 you want to discover the glider flight by sharing the life of the club and making one or two flights a day over a duration of one to six days? Come and try the discovery flights at the Fayence glider Club.
An immersion of 1 to 6 days in the life of the club:
Formula 3 days to discover the glider activity;
6-day formula for learning and practicing in an internship or a la carte.

The privileges of the discovery license:

Fly in two-seater glider;
Learn to fly, if you wish (6-day license);
Participate in club activities all year round.

The discovery license, how does it work?

3 or 6 flight days (consecutive or not) in the year between January 1 and December 31;
3-day licence renewable once in the same year;
License 6 days renewable annually.
Possibility of lodging on site or in partner hotels (see section "accommodation") rate 2019 per day:-25 years: €190 + 25 years: €210 information to the secretariat of the Club + 33 494 760 068
You can fill out the pre-registration form here: