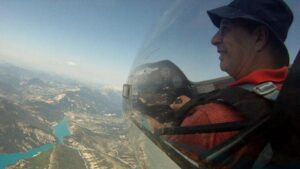 Discovery Formula – April to September: Information to the Club Secretariat: (0) 494 760 068 You want to discover glider flying by sharing the life of the club and carry out one to two flights a day over a period of one to six days? Come and try the flights discovered at the Fayence Glider Club.
An immersion of 1 to 6 days in the life of the club:
Formula 3 days to discover the glider activity;
6-day formula for learning and practicing in an internship or a la carte.

The privileges of the discovery license:

Fly in two-seater glider;
Learn to fly, if you wish (6-day license);
Participate in club activities all year round.

The discovery license, how does it work?

3 or 6 flight days (consecutive or not) in the year between January 1 and December 31;
3  day licence renewable once in the same year;
License 6 days renewable annually.
Possibility of lodging on site or in partner hotels (see section "accommodation")

rate 2020 per day:

Age – 25 years : €195

Age + 25 years: €215

information to the secretariat of the Club + 33 494 760 068
You can fill out the pre-registration form here:
Note from the French Federation of Gliding :
(1) Pilot-in-command – VI pilot: Pilot responsible for decisions made on board the aircraft throughout the flight. He holds a title issued by the Ministry of Transport recognizing his ability to perform the flight under his responsibility. His club has authorized him to perform initiation flights.
(2) Instructor: A person who can teach the piloting of a glider. He holds a rating issued by the Ministry of Transport recognizing his ability to issue a training certificate.